Bird is a new pet in Wild Ones Its ability is Wind It is the first non-Chow Pet since the introduction of Chow.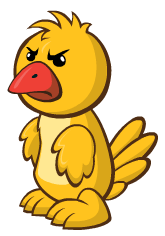 The Bird's stats



Strength

80%

Health

80%

Speed

60%

Jump

75%

Ability

Ability Uses

3x

Cost

00000000000000000020. 20 Treats
Advantages
Edit
Has great Stats
It is a non-Chow pet so players can play unlimited matches with it.
You can kill your enemy with the bird's ability by throwing his pet to death pit.
Best in last one standing in the emerald zone room.
When falling from the sky (by explosives or teleporter), Bird gets very low fall damage (max 48 hp).
Disadvantages
Edit
Costs Treats.
Slightly slow (you can increase its speed by stats points and add-ons)
Only 3 ability usage.
Its is one of the pets that its original color can be found in the shop.
Its design looks like a bit like a canary mini pet when painted all yellow.
It is the first non-Chow pet since the introduction of Chow.
Have best stats in all non-chow pets.
The original color of it resembled Tweety in Looney Tunes.
Only cat takes less fall damage than bird
Animation Gallery
Edit
Ad blocker interference detected!
Wikia is a free-to-use site that makes money from advertising. We have a modified experience for viewers using ad blockers

Wikia is not accessible if you've made further modifications. Remove the custom ad blocker rule(s) and the page will load as expected.