Expired Content

This page contains information about Expired Content, thus Butchers Knife cannot be seen in the shop of Wild Ones.
This page is checked.

This page is checked on 03:33, December 30, 2011 (UTC), please add more data to this page if there is something new to this page to prevent getting outdated. We are welcome for more information and more relevant photos. This page meets Wild Ones Wiki standard and is informative to visitors.
Butchers Knife is a weapon released on 13th May.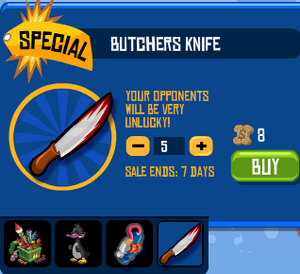 "Your opponents will be very unlucky!"
Advantages
Edit
Disadvantages
Edit
Low damage
Can't do an OTK
Limited for a short period of time.
This weapon is similar to Combat Knife in the video game Halo: Reach, cutlass for Pirates or dagger in real life.
Like the Chainsaw, the Gas Gun and the Poison Cloud, the Butchers Knife etc. has been criticized for being too violent for young players. Even worse, the picture contains blood.