This page is checked.

This page is checked on 03:33, December 30, 2011 (UTC), please add more data to this page if there is something new to this page to prevent getting outdated. We are welcome for more information and more relevant photos. This page meets Wild Ones Wiki standard and is informative to visitors.
Expired for some players

This page contains information about Expired Content to some players, thus Caged Alligator cannot be seen in the shop of Wild Ones if the player did'nt unlock it before expiration.
Caged Alligator
is a weapon in Wild Ones.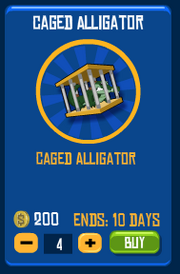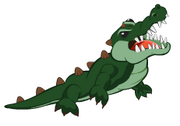 When used, it throws a cage with an alligator. When it lands, the alligator is freed and hunts down the opponents just like the
other weapon
. Unlocking this weapon grants you permanent access to buy it.
"Release a deadly alligator"
Icon
Cost

Accidental Release:00000000000000000200. 200 Coins for 4 ammo

Official Release: 00000000000000000003. 3 Treats for 5 ammo (Unlock first)

Max Cost & ammo

Accidental Release: 0000000000000019,800. 19,800 Coins for 396 ammo

Official Release: 00000000000000000297. 297 Treats for 495 ammo

Damage

300 Damage

Ability

Throw an cage which will open and let Alligator walk and bite opponents

Found in Crates
Released on

Accidental release: 14th of May, 2012

Original release: 21st of May, 2012

Expires on

Accidental release: 14th of May, 2012

Original Release: 4th of June, 2012

Unlocked: This weapon never expires
Advantages
Edit
Great damage.
Once unlocked, it will be available to buy forever.
Lucky for players who bought it for coins.
Will walk around for a long time before disappearing.
Disadvantages
Edit
Cost Treats.
Need to play 45 times in order to get free ammo.
This weapons is similar to Bear Trap as both of these weapons hunt down on opponents.
The alligator looks the same as Crocodile but it has a different color and it's not anthropomorphic.
It's expired 30 minutes after it's been released by an unknown reason.
It's the 3rd weapon to be unlocked after playing 45 times on Swamp map. Some of these will be rewarded for free.
Some players were very lucky when they bought on accidental release.