This page is checked.

This page is checked on 03:33, December 30, 2011 (UTC), please add more data to this page if there is something new to this page to prevent getting outdated. We are welcome for more information and more relevant photos. This page meets Wild Ones Wiki standard and is informative to visitors.
The Candy Cane is nearly an
OTK
weapon. Its function is like a
Trout
and
Mallet
. Although it's a melee weapon, it is said to be very destructive when there's a bunch of people together. This can make more than 3000 points. This is a very good choice without using 60 more treats to buy a
mallet
. A very good and cheap choice for high scores.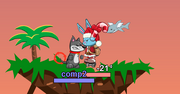 Icon
Cost

1 Treats for 10 ammo (2010 and 2012)

Max Cost & Ammo

99 Treats for 990 ammo (2010 and 2012)

Damage

00000000000000000600. 600 Damage

Ability

To whack pets or the same function of a machete.

Found in crates
Released on
First Release: Unknown, 2010
Second Release: 22nd of December, 2012
Expires on
First Release: Unknown, 2010/2011
Second Release: 18th of January, 2013
Advantages
Edit
The Candy Cane is the strongest Christmas weapon.
It is released in December 2010, then expired. Then it return.
Disadvantages
Edit
Costs treats.
Can't do an OTK.
The Candy Cane was a weapon released for Christmas.
The Candy Cane is a very powerful weapon, for its little size.
On Playdom, when starting game, you can find 10 Candy Canes in crates or someone can gift it to you.