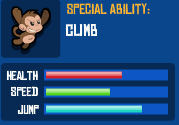 | | |
| --- | --- |
| Damage | 0 |
| Ability | To climb surfaces by sticking to them |
| Found in which pet only | Monkey |
Can climb on every surface, even pets.
Useful ability in any kind of map.
It takes double damage when falling while in Climb mode.
When using Climb you can make a breakdancing monkey whenn pressing jump all the time.
Movements
Edit
Up-Side-Down: Right key to go left, Left key to go Right, and Up key to jump down. Or use the mouse. Right-Side-Up: Same as normal controls except if you jump, you do a cart-wheel. Or use the mouse. Side, Head Facing Left: Right to go up, Left to go down, and Up to jump left. Or use the mouse. Side, Head Facing Right: Right to go down, Left to go up, and Up to jump right. Or use the mouse. You can also use W for jump, A for left movement, D for right movement.
Ad blocker interference detected!
Wikia is a free-to-use site that makes money from advertising. We have a modified experience for viewers using ad blockers

Wikia is not accessible if you've made further modifications. Remove the custom ad blocker rule(s) and the page will load as expected.