Creepy Crawly
is the 7th level released in the game. This map take place on a large ant hole under some grasslands.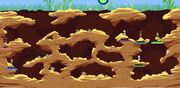 This map has mines and the terrains of this map can even decrease your chances of getting Weapon Crates.
The Monkey's climbing ability can let you crawl over the terrains to gain advantages and escape tough places.
The Armadillo's digging ability can dig through holes. You can use the terrains in your advantage
The Bat's flying ability can help you escape through terrain. You can even climb up to the Terrains and be safe in there. You will never get stuck.
The Platypus is dangerous in this type of map. You can flood the whole map and those pets in the lower levels and caves will find it hard to escape.
Bunny jump ability of the Rabbit can also be useful in there and is really easy to escape through the Terrains.
Ad blocker interference detected!
Wikia is a free-to-use site that makes money from advertising. We have a modified experience for viewers using ad blockers

Wikia is not accessible if you've made further modifications. Remove the custom ad blocker rule(s) and the page will load as expected.