Expired Content

This page contains information about Expired Content, thus Cricket Bat cannot be seen in the shop of Wild Ones.
This page is checked.

This page is checked on 03:33, December 30, 2011 (UTC), please add more data to this page if there is something new to this page to prevent getting outdated. We are welcome for more information and more relevant photos. This page meets Wild Ones Wiki standard and is informative to visitors.
The
Cricket Bat
is released on the 20th July, 2012 in Wild Ones, being one of the released items in the
Cricket series
of Wild Ones. Its function is similar to a
Mallet
which you use it to smack your opponents. It had cost

3 Treats for 4 ammo.
"Hit your opponents with a Cricket Bat"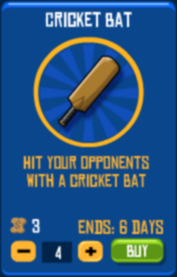 | | |
| --- | --- |
| Icon | |
| Cost | |
| Damage | 1000 Damage |
| Ability | Used to smack opponents |
| Found in Crates | |
| Released on | 20th July, 2012 |
| Expired on | 3rd August, 2012 |
Advantages
Edit
Disadvantages
Edit
Like the Baseball Bat, Bear Trap, Butchers Knife, Caged Alligator, Chainsaw, Claw, Fire Axe, Fishing Pole, Gas Gun, Katana Sword, Longbow, Mammen Axe, Musketeer Sword, Plutonium Jar, Poison Cloud, Quill, Scythe, Spear, Stingray Shooter, Target and Tipi, the Cricket Bat has been criticized for being too violent for young players.
Best melee weapon in Wild Ones.