The Wild Ones Daily Gifts are given to players from the Wild Ones Team or from a friend. It was once have a couple of gifts but now (maybe a better luck than
the Wheel
) only one gift for yourself! Although there is only one, you still can send gifts to your friends!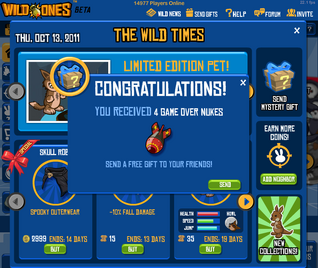 List of Gifts that can be found:

(Ranges from 2 to 4 with the exception of Grenade, which can range up to 50.)
(Note: If you still have this Accessories, then you may still found them)
Pilot Helmet
Tank Top
Mustache
Weapons and ammo
Edit
3 Spider Bomb Showers
3 Gamma Stars
3 Thunderstorm
3 Gameover Nuke
4 Gameover Nuke
1 Gameover Nuke
Please make the page more informative

This article is a stub, you can help Wild Ones Wiki by...
Some Weapons are renamed when redeeming such weapons:
Ad blocker interference detected!
Wikia is a free-to-use site that makes money from advertising. We have a modified experience for viewers using ad blockers

Wikia is not accessible if you've made further modifications. Remove the custom ad blocker rule(s) and the page will load as expected.