The Dino is the 16th pet to be released in Wild Ones on June 8, 2011. It can be collected in the Collection Raffle.
The Dino's stats



Health

800HP

Speed

60%

Jump

81%

Ability

Ability Uses

x2 per game

Cost

Collectible from the Collection Raffle [You must be a member]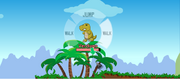 Main article: Pets
One of the sets of accessories you can win in the Raffle, is an Egyptian set, probably because of the many discoveries of fossils that are made in Egypt.
One of the accessories, the King Crown, is almost the same as the cheaper version, the Imperial Crown.
Advantages
Edit
The Advantage of the Dino its Ability its useful in Last Team Standing Mode It can win easily in the emerald zone with its ability and its high health.
Disadvantages
Edit
The Disadvantage of the Dino is its ability does not do a lot of damage
Pets

Mammals

Reptiles

Birds

Marsupials

Human-Type
Ad blocker interference detected!
Wikia is a free-to-use site that makes money from advertising. We have a modified experience for viewers using ad blockers

Wikia is not accessible if you've made further modifications. Remove the custom ad blocker rule(s) and the page will load as expected.