Dodo is a new Facebook-only Minipet in Playdom Merit Kingdom Reward for playing Wild Ones. The Dodo will help you out either by attacking other players, or by grabbing a Health Pack or a Crates for you. However, the Dodo is a somewhat fickle friend, and will not help you out every time.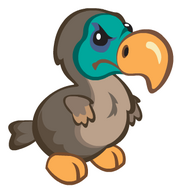 | | |
| --- | --- |
| Cost | 400 Playdom Merit Points (Note that you need to be level 5 to get it) |
| Damage | 60-200 (Randomly Attacks) |
The code is "mini_dodo".
"Dodo" is used many times in random Cartoons or Games.
The Dodo (Raphus cucullatus) was a flightless bird endemic to the Indian Ocean island of Mauritius. Related to pigeons and doves, it stood about a meter (3.3 feet) tall, weighing about 20 kilograms (44 lb), living on fruit, and nesting on the ground. The dodo has been extinct since the mid-to-late 17th century. It is commonly used as the archetype of an extinct species because its extinction occurred during recorded human history and was directly attributable to human activity.

The real Dodo was a flightless bird but in Wild Ones it can fly.
Ad blocker interference detected!
Wikia is a free-to-use site that makes money from advertising. We have a modified experience for viewers using ad blockers

Wikia is not accessible if you've made further modifications. Remove the custom ad blocker rule(s) and the page will load as expected.