The Dragon is the 10th pet to be released in Wild Ones, but it is now available to Non-Members. To obtain the Dragon, a player must first play Collection Raffle and collect all the items. It will then be unlocked. Its ability is to breath fire on its opponent that deals 30 damage rapidly.
The Dragon's Stats



Health

90%

Speed

50%

Jump

55%

Abilty

Fire Breath or Spit

Ability Uses

x3

Cost

4999 Coins +Collectible from Collection Raffle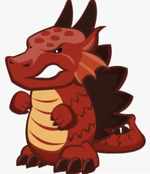 Main article: Pets
Advantages
The advantages of the Dragon are the Spit and its very high health.
With the Spit the Dragon is able to breathe fire and use it on pets that are to close together tripling the damage.
Disadvantages
The disadvantage of the dragon is its low speed and jump. But with Speed Enhancing accessories the problem with the speed may be overcame also with the use of Stats.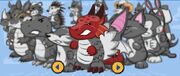 Movement
Right key to move right, Left key to move left and Up key to jump. D key to move right, A key to move left and W key to jump.You can also use the mouse to point where to go.
Trivia
It is the first pet to be based on a mythical animal.
It is the first pet that is able to hit multiple times with its ability.
Despite being a Dragon, it can't fly like the Bat.
It is interesting to note that the Platypus and the Dragon were discovered at the same time but their abilities are quite the opposite. The Dragon's ability is the Fire Spit which is a Fire related element while the Platypus's ability is the Flood which is a Water related element.
The Dragon's fire, when zoomed in, will appear as pixels.
Ironically, one of the accessory sets you win in the Collection Raffle is the one of a knight: the Knight Helm, the Knight Armor, and the Knight Belt.
There is also a Wizard set and, particularly strangest of all, a Dragon set.
Despite being a Dragon, it has very low speed.
It has acted like a rival with the Platypus, since the two of them has each elemental ability (Platypus: Flood which is a Water type) (Dragon: Spit which is a Fire type), they both are needed to unlock on the Collection Raffle. Some say that the Platypus is better, but some say that the Dragon is better.
In the Collection Raffle there are Knight costumes, Wizard costumes and Dragon Accessories.Knight fights dragon as well as Wizard at times.
The Dragon was once member-only pets.
See also
Pets

Mammals

Reptiles

Birds

Marsupials

Human-Type
Ad blocker interference detected!
Wikia is a free-to-use site that makes money from advertising. We have a modified experience for viewers using ad blockers

Wikia is not accessible if you've made further modifications. Remove the custom ad blocker rule(s) and the page will load as expected.