Expired for some players

This page contains information about Expired Content to some players, thus Duck cannot be seen in the shop of Wild Ones if the player did'nt unlock it before expiration.
The Duck is the 13th pet to be released in Wild Ones on 10th May, but it is only available to Members. To obtain the Duck, a player must first buy Membership to unlock the Collection Raffle and collect all the items. The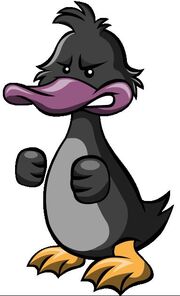 Duck's ability is Peck, whom the Duck pecks by using its beak and peckany pet that is close to it.
The Duck's stats



Health

60 HP

Speed

62%

Jump

80%

Ability

Ability Uses

x3

Cost

Expired. If someone has completed collection before expired it still costs 5,999 coins.
Main article: Pets
Right key to move right, Left key to move left and Up key to jump. D key to move right, A key to move left and W key to jump. You can also use the mouse to point where to go.
When you paint the duck into all gray in colour, it will look like the "Ugly Duckling" in a fairy-tale.
Pets

Mammals

Reptiles

Birds

Marsupials

Human-Type
Ad blocker interference detected!
Wikia is a free-to-use site that makes money from advertising. We have a modified experience for viewers using ad blockers

Wikia is not accessible if you've made further modifications. Remove the custom ad blocker rule(s) and the page will load as expected.