This page is checked.

This page is checked on 03:33, December 30, 2011 (UTC), please add more data to this page if there is something new to this page to prevent getting outdated. We are welcome for more information and more relevant photos. This page meets Wild Ones Wiki standard and is informative to visitors.
Expired Content

This page contains information about Expired Content, thus Easter Basket cannot be seen in the shop of Wild Ones.
Easter Basket is an Easter weapon in Wild Ones. When you use this weapon, the basket will act as a missile and transforms into 6 bouncy Easter eggs when the basket hits surface. The eggs act like Rubber Grenade but without the ability to stick opponents. After some seconds, the eggs will explode and inflict another round of damage. It had costed 0000000000000001,999.

1,999 Coins for 6 ammo. You can lower the speed of the eggs by using little power. Since that, it makes it easy for you to achieve an OTK. The highest possible damage inflicted without stats or snacks is 00000000000000002200.

2200 Damage.
"A basket filled with bouncy egg grenades"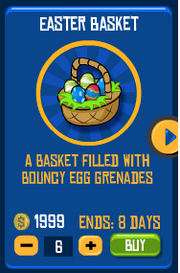 | | |
| --- | --- |
| Icon | |
| Cost | |
| Missile Damage | 700 Damage |
| Egg Damage | 250 Damage each |
| Ability | The user will throw a basket of 6 easter eggs and the basket will explode and the eggs will start bouncing |
| Found in Crates | |
| Released on | April 4, 2012 |
| Expired on | April 18, 2012 |
Advantages
Edit
Very high damage for weapons that cost coins.
Disadvantages
Edit
Since the eggs are bouncy, they will easily take no damage.
It is a two-part type weapon which the 1st part is the missile damage while the eggs damage is the 2nd round.