This page is checked.

This page is checked on 03:33, December 30, 2011 (UTC), please add more data to this page if there is something new to this page to prevent getting outdated. We are welcome for more information and more relevant photos. This page meets Wild Ones Wiki standard and is informative to visitors.
Expired Content

This page contains information about Expired Content, thus Fire Axe cannot be seen in the shop of Wild Ones.
Fire Axe was released on 12th January. The function of this weapon is similar to a Chainsaw where you chop opponents in close distance to inflict damage. You chop opponents with a Fire Axe 5 times and the round ends. It had costed 00000000000000000002.

2
Treats
for 5 ammo.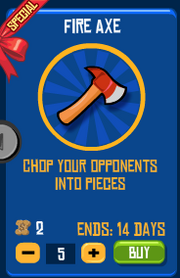 | | |
| --- | --- |
| Icon | |
| Damage | 175 Damage per smash (875 accumulated) |
| Ability | To smash someone with an axe |
| Found in Crates | |
| Released on | 12/1/12 |
| Expires on | 26/1/12 |
Advantages
Edit
Can make a lot of score when you use this weapon in a bunch of packed pets with low health.
Disadvantages
Edit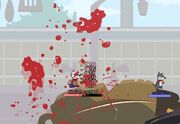 When the pet is smashing, the victim's blood will come out.
Smashing pets time: 3 seconds.
You can make a firefighter pet, just wear a firefighter jacket, a firefighter pants and a firefighter hat with a Fire Axe or Fire Hose.
One of the most brutal weapons.
It is the most unrealistic weapon as morally if a pet/human are chopped so many times in the head with an axe, it should be dead but this weapon does not even do an OTK (Does at occasional times.).
It is a violent weapon.