This page is checked.

This page is checked on 03:33, December 30, 2011 (UTC), please add more data to this page if there is something new to this page to prevent getting outdated. We are welcome for more information and more relevant photos. This page meets Wild Ones Wiki standard and is informative to visitors.
This weapon is harmful to your health.

Fire Storm is a chemical weapon. Please do not overuse it because it will be very destructive and will make the game unfair.
Fire Storm is the 3rd weapon to be released between level 100-200. When you use fire storm, you will see a screen similar to
Kamehameha Wave
where the fire storm icon keeps falling and napalm covers the earth. After that, a colony of fire storm falls to land in random direction from a point in the middle-up area of the map.
"A fiery Airstrike that covers map in Fireballs!"
| | |
| --- | --- |
| Icon | |
| Cost | 15 Treats for 5 ammo |
| Max Cost & Ammo | 1485 Treats for 495 ammo |
| Damage | 550 Damage each fireball |
| Ability | Fireballs airstrike from a point above |
| Found in Crates | |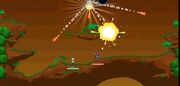 Advantages
Edit
When you reach level 100-200, you'll get 3 Firestorms. This is the 3rd weapon to be released at Level 100.

High damage and it shoots not only a single fire storm but a colony of it.
Skunk, Hippo, Koala, Tiger, and the monkey is inserted at least 2 + damage + Damage 2 doubles with a normal kick.
 More than 10% of hits flat areas
Flour and the remaining 2 points + 10 points, giving the power to the actual speed of the weapon damage, so when you have made verin.Bunu number 1470 1000 10% damage increase the power out 70 times. [This episode to be fully dressed]
This gun accessory worn in the 100 level defense bonus folding.
Disadvantages
Edit
You may hurt yourself.
Easy to waste.
It randomly shoots Fireballs and sometimes it might not even hit the enemy at all.
It is like a mix of the Napalm, because of the fire; and the Kamehameha Wave, because of a short animation appearing in the screen.
It might not be very accurate if your target is under cover.
Second Armageddon weapon to be released.
The number of times taking damage varies every time when you use this weapon. Therefore, it is categorized as multiple-part type weapon. Due to few weapons have this function, it is still barely recognized as a two-part type weapon.