Expired Content

This page contains information about Expired Content, thus Fishing Top cannot be seen in the shop of Wild Ones.
Fishing Top is a top accessory on wild ones.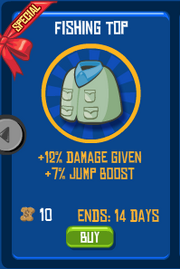 Cost
Bonus

0000000000000000+12%. +12% Damage Given

+7% Jump Boost

Found in Crates
Released in:
June 5th, 2012
Expiring on:
June 19th, 2012
Some players were banned when they bought the accessory without hacking.
Released in a wrong time/ day.
Ad blocker interference detected!
Wikia is a free-to-use site that makes money from advertising. We have a modified experience for viewers using ad blockers

Wikia is not accessible if you've made further modifications. Remove the custom ad blocker rule(s) and the page will load as expected.