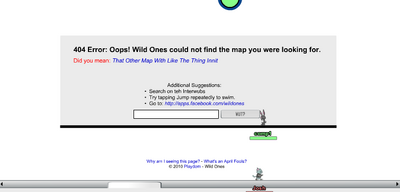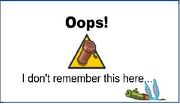 | | |
| --- | --- |
| Level to unlock | At level 5 |
This map is expired like the Chow Time! map, but you can play it if you enter to the private game called "Foolish Errors"
The map was made for April Fools' Day 2010 because Wild Ones could not find the correct map. Hence, you are fooled.
This map is the least to lag because its background is not moving.
It has the most spacious map, and having the Highest Hole KO risks due to its thin surface. The site can be removed by firing a Mega Nuke precisely on the center.
It is the only map whom has a different featured image. The weapon at its image is a Dynamite.
Most Pets can't walk under the text at the bottom as they will get stuck on the "y" on Playdom.
It was once need to be unlocked at level 19. Now only level 5, same with Chow Time!
You can score easy kills by using weapons that leave large holes in the ground, like Dynamite and Jumbo Missile, leaves a big hole on the map. The thin layer at the bottom could trick. Using bombs can make a hole and trick people to get more points.
Platypus are recommended for this arena because the surface is very thin and it is easy TO FLOOD animals that are on the ground.
It is the first map to be deleted by Playdom, together with Chow Time! because of new room of new maps.
this map has not background music.