This page is checked.

This page is checked on 03:33, December 30, 2011 (UTC), please add more data to this page if there is something new to this page to prevent getting outdated. We are welcome for more information and more relevant photos. This page meets Wild Ones Wiki standard and is informative to visitors.
This weapon is harmful to your health.

Game Over Nuke is a chemical weapon. Please do not overuse it because it will be very destructive and will make the game unfair.
The Game Over Nuke is the most powerful and the most destructive nuke in Wild Ones. Despite its name, it will not "really" end the game but ending up with many players being provoked and leaving the game. Everyone will mostly die in close range, sometimes in far range too. Despite also its name, it is considered as an OTK. It can almost destroy one-third of the Map. Its function is like a missile.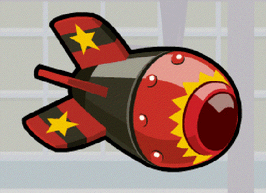 Icon
Cost

00000000000000000109. 109 Treats for 20 ammo

Max Cost & Ammo

10,791 Treats for 1980 ammo Members: 00000000000000009801. 9801 Treats for 1980 ammo

Damage

Hit Damage: 00000000000000002000. 2000 Damage (without stats)

Far Damage: 0000000000000000≥600. ≥600 Damage


Near Damage: 00000000000000001200. 1200 Damage

Ability

Explodes and takes out a huge chunk of terrain.

Found In crates
Advantage
Edit
Disadvantage
Edit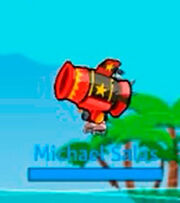 This article is rated Gold 16/20










Ad blocker interference detected!
Wikia is a free-to-use site that makes money from advertising. We have a modified experience for viewers using ad blockers

Wikia is not accessible if you've made further modifications. Remove the custom ad blocker rule(s) and the page will load as expected.