This weapon is harmful to your pet, please do suitable protection

Please wear accessories which can maximize your health or rise your stat points to prevent death. Laser can be hazardous and will kill your pet easily. Please don't play with laser at home, once laser is pointed to someone's eye, it can blind them.
This weapon is harmful to your health.

Gamma Death is a chemical weapon. Please do not overuse it because it will be very destructive and will make the game unfair.
The Gamma Death is a
Wild Ones Remake
exclusive weapon limited for Youtubers and admins only. It doesn't destroy any terrain but kills everyone in its path. (except if the person has so high stat points in health).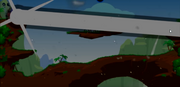 | | |
| --- | --- |
| Icon. | |
| Cost. | |
| Max Cost & Ammo. | |
| Damage | 00000000000000001500. 1500 Damage |
| Ability | Damages opponents by shooting a planet destroying laser across the map |
| Found In crates. | |
Ad blocker interference detected!
Wikia is a free-to-use site that makes money from advertising. We have a modified experience for viewers using ad blockers

Wikia is not accessible if you've made further modifications. Remove the custom ad blocker rule(s) and the page will load as expected.