The Giraffe's stats



Strength

80%

Health

90%

Speed

70%

Jump

45%-50%

Ability

Ability Uses

3x

Cost

00000000000000000025. 25 Treats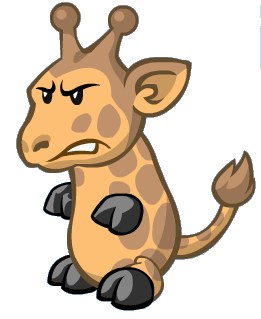 Giraffe is a new pet in Wild Ones. It's ability is Poison Spit. It is the third non-Chow Pet since the introduction of Chow. It was released on 24/07/2012
Advantages
Edit
It is a non-Chow pet so players can play unlimited matches with it.
Great Health
Good Speed
A bit good Jump
Good strength
Disadvantages
Edit
Its jump is a bit weak (a bit more than the crocodile's)
The poison goes only straight away.
If you stick to an another player and use its ability, the poison will go at the other side of the player and go away.
It is the third non-Chow pet since the introduction of Chow.
It has the same health as the Dragon.
Dog's jump is higher than giraffe's
Giraffe spits poison in the game, but not in real life.
Giraffe has short neck in the game, but in real life it has a long neck.
Ad blocker interference detected!
Wikia is a free-to-use site that makes money from advertising. We have a modified experience for viewers using ad blockers

Wikia is not accessible if you've made further modifications. Remove the custom ad blocker rule(s) and the page will load as expected.