The Halloween Combo Pack is a special pack that contain an unknown quantity of Halloween Weapons. This is a way to earn Exclusive Halloween weapons like the
Witch's Broom
and
Candy Mirv
. The Halloween Combo Pack costs 20 Treats. This is similar to the
Wild Ones Combos
. This Co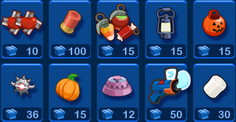 mbo Pack is no longer available and is expired.
It's also a way to earn Exclusive Accessories. The Accessories that you can obtain for this pack are:
Samurai Helmet
Chieftain Top
Chieftain Headdress
Groucho Glasses
Ad blocker interference detected!
Wikia is a free-to-use site that makes money from advertising. We have a modified experience for viewers using ad blockers

Wikia is not accessible if you've made further modifications. Remove the custom ad blocker rule(s) and the page will load as expected.