The hedgehog is the 12th pet to be released in Wild Ones on 14th April. To obtain the Hedgehog, a player does not need to buy the Membership for the Collection Raffle and collect all the items. The Hedgehog's ability is Superspin in which the Hedgehog rolls into a ball and is able to travel very fast.
The Hedgehog's stats



Health

Good HP

Speed

Good Speed

Jump

Good Jump

Ability

Ability Uses

Unlimited

Cost

4,999 coin's Plus Collection Raffle
Right key to move right, Left key to move left and Up key to jump. D key to move right, A key to move left and W key to jump.You can also use the mouse to point where to go.
Advantage
Edit
Can dig a hole and travel very fast when using Superspin. It give many damage especially when landing on the opponment very hard.
Disadvantage
Edit
Need to complete the Collection Raffle to get it.
The Hedgehog's look and it's ability is a play on Sonic from Sonic the Hedgehog. Many players have made fun of this, even the appearance itself.
When a player falls while spinning on an opponent, it will inflict critical damage (twice as normal), when falling without spinning, it will inflict normal damage..
The Hedgehog was released by accident for a day before getting recalled. Anyone who bought one during this time was allowed to keep them. It was released on 14th April and can be collected in the Collection Raffle now. Its function is now repaired.
Originally, if a player uses its ability, the player may use another weapon after or while it's spinning. This made some players think that the Hedgehog is overpowered. It was changed later that the Hedgehog may no longer use any weapon during the turn the special was used.
The Hedgehog is short enough to fit under the "Playdom" word in Foolish Errors.
Hedgehog's ability is probably the most powerful. It can be used for fast travelling purposes and/or for attack, and it is unlimited. Also it can dig through terrain while spining.
It's smallest pet in wild ones
If you use a Invisibility Potion and the ability you damage opponent looking "a ninja".
Pets

Mammals

Reptiles

Birds

Marsupials

Human-Type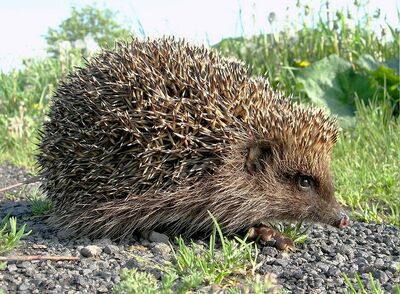 Ad blocker interference detected!
Wikia is a free-to-use site that makes money from advertising. We have a modified experience for viewers using ad blockers

Wikia is not accessible if you've made further modifications. Remove the custom ad blocker rule(s) and the page will load as expected.