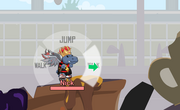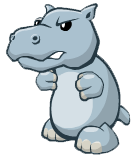 Hippo
can be bought by buying 85 treats. It was re-released on 29th June, 2011.
The Hippo's stats



Health

60 HP

Speed

62%

Jump

80%

Ability

Ability Uses

x5 per game

Cost

Expired
Main article: Pets
Right key to move right, Left key to move left and Up key to jump. D key to move right, A key to move left and W key to jump. You can also use the mouse to point where to go.
Its special ability is Chomp and you can use it 5 times per match.

It can only chomp at close range.
Before it could be hacked using WPE Pro but you wouldn't be able to play it because it is not released also it would ban you instantly. (You could do the same with Duck.)
It Can't Survive Flood like Duck but it Swims Very Fast like Duck.


Stats are the same like Duck.
Pets

Mammals

Reptiles

Birds

Marsupials

Human-Type
Ad blocker interference detected!
Wikia is a free-to-use site that makes money from advertising. We have a modified experience for viewers using ad blockers

Wikia is not accessible if you've made further modifications. Remove the custom ad blocker rule(s) and the page will load as expected.