Holiday Treat Sale started on 27/12/11. This sale reduced prices of Treats.
"Treats are up to 40% off! Hurry, sale ends Friday!"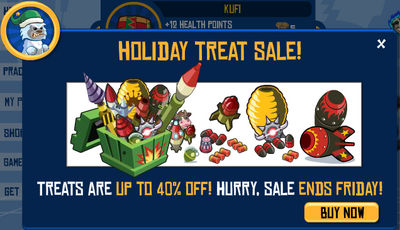 Costs and Treats amount
Edit
00000000000000000085.

85 Treats for $12.99
00000000000000000215.

215 Treats for $29.99
Available Payments
Edit
PayPal
New Credit Card
DaoPay
Laser
Visa Electron
paysafecard
Moneybookers
Western Union QuickPay
Facebook Credits?
Advantages
Edit
More Treats and much cheaper then other amount.
Disadvantages
Edit
Credit Card only.
3 Day only Sale.
Although, Treats sales are cheap because they reduce prices, it is still better to buy Cash from Zynga because they offer more Cash (Not real cash) at the same price of Treats.
The picture contain various weapons, these weapons are: Missile, Grenade, Game Over Nuke, Mega Nuke, Beehive, Earthquake!, MIRV, Cow, Anti-Grav Missile, Queen Beehive, Shotgun (Shells Only), Mega MIRV Launcher, Drill Missile, Jumbo Missile, Missile Stream and Gamma Ray.
Ad blocker interference detected!
Wikia is a free-to-use site that makes money from advertising. We have a modified experience for viewers using ad blockers

Wikia is not accessible if you've made further modifications. Remove the custom ad blocker rule(s) and the page will load as expected.