Expired Content

This page contains information about Expired Content, thus Kangaroo cannot be seen in the shop of Wild Ones.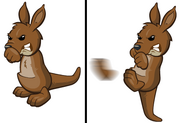 The
Kangaroo
was released on 17th August 2011 in Wild Ones. It is the 19th Pet in game. To obtain the Kangaroo, a player must first play
Collection Raffle
and collect all the items. Its Special Ability is
Battle
. Deals almost half of pets health.This pet Maxed out stat is up to 25 Only due to its high Stats. It is now expired.
The Kangaroo's Stats



Strength

80%

Health

60%

Speed

70%

Jump

85%

Ability

Ability Uses

x3

Cost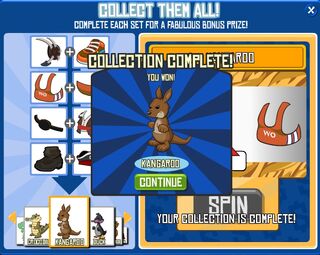 Main article: Pets
Advantages
Edit
The advantages of the Kangaroo is the high Pet Power damage and its very high jump.
Pet Power 's last attack causes push and damage.
Pet Power can be used to push opponents off the cliff at Emerald Zone.
If you have maxed out stats, Pet's Powers are always fatal and nearly always give you 1200+.
Disadvantages
Edit
The disadvantage of the Kangaroo is none. It has a very high jump like the of cat and all the other stats are moderately high.
Right key to move right, Left key to move left and Up key to jump. D key to move right, A key to move left and W key to jump.You can also use the mouse to point where to go.
It is the 2nd Marsupial after Koala.
Its special ability is to Battle (Has a very high damage than other Pet's Power).
Pet with overall high stats.
Good with Accessories like Boxing Helmet, Boxing Gloves etc.
Highest pet on Wild Ones.
This pet is much used by hackers.
Pets

Mammals

Reptiles

Birds

Marsupials

Kangaroo (Unobtainable) 

·

Koala (Expired)

Human-Type
Ad blocker interference detected!
Wikia is a free-to-use site that makes money from advertising. We have a modified experience for viewers using ad blockers

Wikia is not accessible if you've made further modifications. Remove the custom ad blocker rule(s) and the page will load as expected.