Unreleased Content

This page contains information about Unreleased Content, which may be inaccurate or change over time.
Incomplete... :(

This page contains information about Inaccurate Content, which means that the item is not fully done which might change over time.
Killer Missile or Grayscale version of Missile is an unreleased weapon in Wild Ones. It is known as an Infected Weapon (Weapon Memory has been Erased).
| | |
| --- | --- |
| Cost | N/A |
| Damage | N/A |
| Ability | Shoot a Killer Missile |
| Found in crates | No |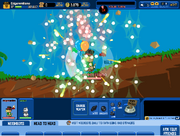 The code is "mortarKI1" but in WPE Pro it shows "null" due to the erased data of it.
Null means no longer in use or nothing,implying it's appearance at every vacant hotkeys.
This is an grayscale version of Missile.
Icon of Fireball Rocket in Mini Weapon's and more.

When you shoot it does nothing.
This is upgraded version of Missile .
The cannon is red in colour.
This Weapon was Infected due to the Lost memory of the game this might be to the New Wild Ones Beta.
Its the Null Picture somehow the Null with the Red Launcher? will be Coming soon in the game.
Ad blocker interference detected!
Wikia is a free-to-use site that makes money from advertising. We have a modified experience for viewers using ad blockers

Wikia is not accessible if you've made further modifications. Remove the custom ad blocker rule(s) and the page will load as expected.