This page is checked.

This page is checked on 03:33, December 30, 2011 (UTC), please add more data to this page if there is something new to this page to prevent getting outdated. We are welcome for more information and more relevant photos. This page meets Wild Ones Wiki standard and is informative to visitors.
Expired Content

This page contains information about Expired Content, thus Kiss GoodBye cannot be seen in the shop of Wild Ones.
The Kiss Goodbye is one of the most powerful weapons in Wild Ones. It is a weapon that can cause OTK. It can also leave an enormous hole in the ground.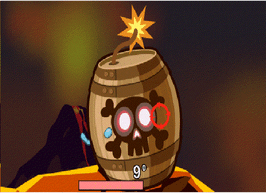 | | |
| --- | --- |
| Icon | |
| Cost | |
| Damage | 1200 Damage (excluding fall damage) |
| Ability | Drop an epic bomb to kiss someone goodbye |
| Found in crates | |
Advantages
Edit
Kiss Goodbye is the most powerful timed explosive weapon. Its damage is equivalent to Mega Nuke.
This weapon is recommended to be used in a bunch of pets not so far away or struggling each other. It would be very useful after a big crater formed by Mega Nuke or Game Over Nuke to make a small island.
2 of them can be found in crates.
Easy to do some amazing chain reaction when used with teleporter.
Disadvantages
Edit
This weapon is the upgraded version of the Love Note.
If you leave a game while the fuse is burning, the sound will continue to loop until the page is refreshed.
Its explosion has mushroom cloud with pink explosion that emits hearts, even though it's not a Love Note.
It was once nearly the size of a Baby Nuke. Now somehow smaller than a Game Over Nuke.
You can get 20 of these from the Collection Raffle!
The skull of it is similar form the Slot Machine 100X treats picture.
The explosion is combined of: Game Over Nuke's explosion smoke and Love Note's explosion smoke.
Giftable for a limited amount of time.
the code for this ammo is kissgodby