Kiwi
is a Facebook only snack in Wild Ones.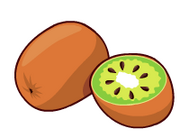 | | |
| --- | --- |
| Cost | 170 Playdom Merit Points |
| Powerup | +40% Defence |
| Turns | 3 |
| Time taken to make | 5 seconds |
Advantages
Edit
If you eat three kiwis you will take no damage at all when somebody hit you (not fall damage)
This snack is now expired though some hackers buy this by replacing other snack with kiwi which won't cost any amount of coins.
Kiwi is an overpowered snack from which, even though says it yields +40% defence when eaten, can reduce the missile's damage from 400 to 50,take approximately 100 from Game Over Nukes even at close range, and even nullify Gamma Star's damage.
Most common snack used by hackers.
Ad blocker interference detected!
Wikia is a free-to-use site that makes money from advertising. We have a modified experience for viewers using ad blockers

Wikia is not accessible if you've made further modifications. Remove the custom ad blocker rule(s) and the page will load as expected.