The Laurel Wreath is an Accessory in Wild Ones.It was released on 1/9/11.It can also be called Golden Wreath.It has -2% Damage Taken and costs 2,999 Coins which made lots of people happy that its not for treats.People Say that it willl be released along with Warrior Gear.It is now Expired.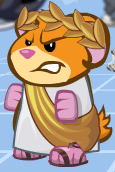 Completed Toga Outfit on a Hamster.
Ad blocker interference detected!
Wikia is a free-to-use site that makes money from advertising. We have a modified experience for viewers using ad blockers

Wikia is not accessible if you've made further modifications. Remove the custom ad blocker rule(s) and the page will load as expected.