This page is checked.

This page is checked on 03:33, December 30, 2011 (UTC), please add more data to this page if there is something new to this page to prevent getting outdated. We are welcome for more information and more relevant photos. This page meets Wild Ones Wiki standard and is informative to visitors.
The MIRV splits into 6 MIRVchilds after 3 seconds of being in the air and once they separate, they do 225 damage each. A common tactic is to explode the MIRV right above or below a pet. It has been known to do over 600 damage.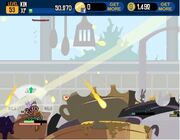 | | |
| --- | --- |
| Icon | |
| Cost | 3 Treats for 10 ammo |
| Members | 2500 Coins for 10 ammo |
| Max. Cost & Ammo | 297 Treats for 990 ammo |
| MIRVchild damage | 00000000000000000225. 225 Damage each |
| Missile damage | 100 Damage |
| Ability | Splits into 6 MIRVchildren |
| Found in crates | |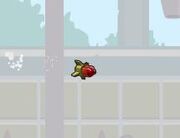 The upgraded versions of the MIRV are Scatter MIRV,Xmas light Ultimate MIRV And Mega MIRV Launcher.
The MIRV is also the strongest weapon in the Skill Match when used well.
Before the 40 new weapons were released, the MIRV costs

50 Coins.

600+ Damage for using the MIRV Tactics.
Advantages
Edit
Can kill multiple enemies.
Can be handy if a drill missile has been fired directly down and enemy's are either side of the hole made by the drill, this will get you more points than firing a drill missile back.
Disadvantages
Edit
The Mirv can kill yourself if you're near to its Splitted Missiles.
It does a little damage if it hit directly without dispersing, unfair to beginners who don't know how to use this.