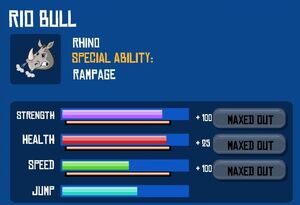 In stats, Maxed Out means that your pets stats are all full. Usually a pet with maxed out stats is considered a very powerful pet. Normally hackers are the most players in Wild Ones having maxed out stats in their pets, but there are people that do not hack instead they pay treats by mobile or credit cards to buy stats to max out. Pets with maxed out stats take little damage from weapons, even take little damage from powerful weapons like Game Over Nuke. When your health is maxed out then you don't receive much damage, when your strength is maxed out then when you attack other pets they receive a lot of damage and when your speed is maxed out then you are extremly fast. The only stat you are not able to max out is Jump since you cant upgrade your jump, it really depends on your pet in Jump.
Ad blocker interference detected!
Wikia is a free-to-use site that makes money from advertising. We have a modified experience for viewers using ad blockers

Wikia is not accessible if you've made further modifications. Remove the custom ad blocker rule(s) and the page will load as expected.