This page is checked.

This page is checked on 03:33, December 30, 2011 (UTC), please add more data to this page if there is something new to this page to prevent getting outdated. We are welcome for more information and more relevant photos. This page meets Wild Ones Wiki standard and is informative to visitors.
The Mega Grenade Cluster shoots out 10 Grenades at the same time. At a close range shot, it will KO your opponent(s). They will behave like normal grenades.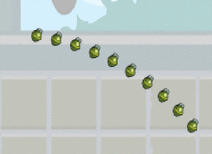 Icon
Cost

16 Treats for 15 ammo

Max Cost & Ammo

1584 Treats for 1485 ammo

Damage

250 - 300 Damage per grenade

00000000000000002500. 2500 Damage (All Grenades)

Ability

Throw 10 Grenades at once

Found in crates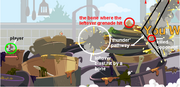 Advantages
Edit
Maximum damage without bonus is 4000.
A good tactic is to stand right next to someone and place it all beside them without using power and run away. This would most likely OTK them and help you win a medal.
You can do an OTK if you use 4 grenades of Mega Cluster Grenade
Disadvantages
Edit
You can use this weapon as MIRV but somehow it will kill yourself.
Costs treats.
The Missile Counterpart of this weapon is the Baker's Dozen.
When doing a thunderstrike, you need to adjust it at a slanted position(specifically 46 degrees) in maximum. It will commonly kill one opponent without moving. This move is helpful when at fullscreen mode. View the guide on the right.
Keep volumes low as possible as this weapon cluster when fired, can cause a louder explosion than any other explosives, more than a Firecrackers.