Expired Content

This page contains information about Expired Content, thus Mega Ninja Stars cannot be seen in the shop of Wild Ones.
This page is checked.

This page is checked on 03:33, December 30, 2011 (UTC), please add more data to this page if there is something new to this page to prevent getting outdated. We are welcome for more information and more relevant photos. This page meets Wild Ones Wiki standard and is informative to visitors.
The Mega Ninja Stars allow you to throw 6
Ninja stars
at the same time. Be careful the
Shurikens
can't bounce but Ninja stars can.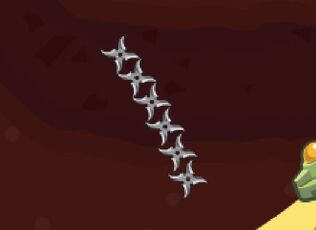 | | |
| --- | --- |
| Icon | |
| Cost | |
| Damage | 145 Damage each shuriken (870 Maximum) |
| Ability | Throw 6 shurikens at the same time |
| Found in crates | |
Advantages
Edit
It is a good weapon to deal a killing blow
If there are pets hiding in a 'cave', using this weapon at that place can bounce to the end where the pet is hiding in, absorbing all shurikens.
It can bounce.
Disadvantages
Edit
Since it is thrown at the same time and the ninja stars are bouncy, it is hard to make an OTK and only at most half of all shurikens can hit the pet in a big area while it is possible to make an OTK when you shoot it to the opponent in the small aisle but easy to hurt you. Instead, using it as a landmine is recommended although must be done with skill to prevent you from being harmed as it deals a base damage of 870 at once.