Mines are little explosives located around
Maps
when stepped on these will cause 400 damage. They are randomly placed but will stay in a certain area. Mines may be placed on a Map by the use of weapons such as
Mine Cluster
,
Mine Shower
, or the expired
Candy Mines
.Do not step on this,because it can damage you or possibly....die.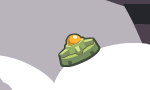 This plays an important role in obtaining an achievement called 'Mine sweeper pro',to get treats,which leads to
Membership
There are some Maps that don't have any Mines these are:
Ad blocker interference detected!
Wikia is a free-to-use site that makes money from advertising. We have a modified experience for viewers using ad blockers

Wikia is not accessible if you've made further modifications. Remove the custom ad blocker rule(s) and the page will load as expected.