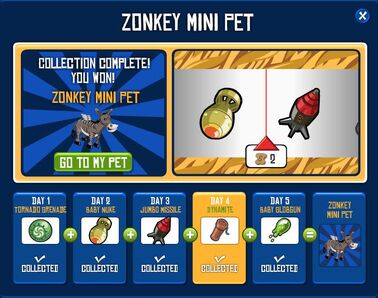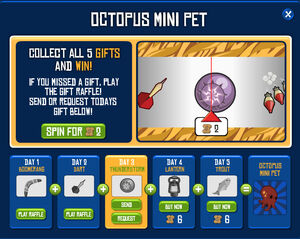 This article is very old.
Please improve this article by:
Updating it
Adding more pictures
Putting more links
If the particular subject about the page has already disappeared, please delete it or mark it as an expired object page to make it a memorable history. Mini Pets Raffle is a raffle that you need to collect all weapons or buy it to get it. Recently, it has been done to Elephant, Octopus, Zonkey and Bald Eagle. Moreover, unreleased and expired weapons are also (re)-released.
Each day will be a special day for users to gift or request someone.
If you miss one day, you can spin the Raffle and get the weapon which will cost you 2 treats.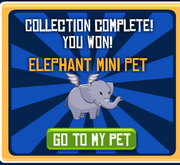 Ad blocker interference detected!
Wikia is a free-to-use site that makes money from advertising. We have a modified experience for viewers using ad blockers

Wikia is not accessible if you've made further modifications. Remove the custom ad blocker rule(s) and the page will load as expected.