Mining Cart
is released on 19th October, 2012.
"A Mining Cart with explosive Diamonds"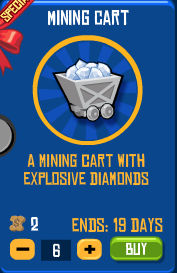 Icon
Cost

2 Treats for 6 ammo

Damage

Diamond - 200-400

Cart - 500

Diamond Fall Damage - 20-50?

Ability
Throw a Cart full of Diamonds
Found in crates
Released Date
19th October, 2012
Expiry Date
9th November, 2012
Advantages
Edit
Disadvantages
Edit
Diamonds take a while to explode, so if you fire it at someone whose turn is next, they can use the super jump or fly pet abilities to avoid damage from the diamonds, as well as grapple hook and teleporter.
First weapon to contain a rich resource - Diamonds.
Ad blocker interference detected!
Wikia is a free-to-use site that makes money from advertising. We have a modified experience for viewers using ad blockers

Wikia is not accessible if you've made further modifications. Remove the custom ad blocker rule(s) and the page will load as expected.