This page is checked.

This page is checked on 03:33, December 30, 2011 (UTC), please add more data to this page if there is something new to this page to prevent getting outdated. We are welcome for more information and more relevant photos. This page meets Wild Ones Wiki standard and is informative to visitors.
Expired for some players

This page contains information about Expired Content to some players, thus Mosquito Swarm cannot be seen in the shop of Wild Ones if the player did'nt unlock it before expiration.
Mosquito Swarm is a Weapon in Wild Ones. When used, it throws a box with mosquitoes and when opponent is hit with it, the mosquitoes will sting the opponent. Unlocking this weapon grants you permanent access to buy it.
"Send a swarm of mosquitoes after your opponent"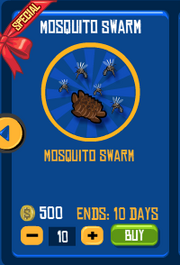 Icon
Cost
Accidental release:

500 Coins for 10 ammo (After unlocking)

Original release: 00000000000000000003. 3 Treats for 6 ammo

Max Cost & Ammo

Accidental Release: 0000000000000049,500. 49,500 Coins for 990 ammo (After unlocking)

Original Release: 00000000000000000297. 297 Treats for 594 ammo

Damage

Brown Box: 00000000000000000500. 500 Damage (Impact)

Mosquito: 00000000000000000038. 38 Damage per second (During 10 secs)

Ability

Shots a mosquito swarm to your opponents

Found in Crates
Released on

Accidental release: 14th of May, 2012

Original release: 21st of May, 2012

Expired on

Accidental release: 14th of May, 2012

Original Release: 4th of June, 2012

Unlocked: This weapon never expires
Advantages
Edit
Players who bought it for coins before were very lucky.
Once unlocked, it will be available to buy forever.
Disadvantages
Edit
It is expired 30 minutes after it's been released by unknown reason.
The code is "mosquitoswarm", not "mosquitowarm".
2nd weapon to be unlocked after playing 20 times on Swamp map. 8 of these will be found in the inventory as a result.
Some lucky players bought it before it was expired.