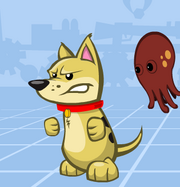 Expired Content

This page contains information about Expired Content, thus Octopus cannot be seen in the shop of Wild Ones.
The Octopus was released on 4 May 2011.
To earn the Octopus you have to complete Mini Pets Raffle consisting of some new weapons like lantern and thunderstorm. The Octopus may help you to attack other opponents or grab health packs and crates just for you. However, Octopus is a somewhat a fickle friend and will not help you out every time. The ficklest mini-pet ever seen! So fickle it almost never does anything!
| | |
| --- | --- |
| Cost | |
| Damage | 100 |
| Found in crates | No |
Ad blocker interference detected!
Wikia is a free-to-use site that makes money from advertising. We have a modified experience for viewers using ad blockers

Wikia is not accessible if you've made further modifications. Remove the custom ad blocker rule(s) and the page will load as expected.