This page doesn't meet Wild Ones Wiki's standard

This page doesn't meet Wild Ones Wiki's standard. The following reasons are:

Not enough information
Not enough photos
Not enough data about the item
Incomplete page
Lots of grammar mistakes and fake information
Outdated information
Passive page (Bereft of links)
Stub page (Please expand it)

Please clean up this page until this page meets Wild Ones Wiki's standard. It is also good that you add more trivia about the item and the opinions about it (adding disadvantages and advantages).
Expired Content

This page contains information about Expired Content, thus Packages cannot be seen in the shop of Wild Ones.
Packages is a weapon on Wild Ones. It was released on 16th August, 2012. It was released for Delivery Week.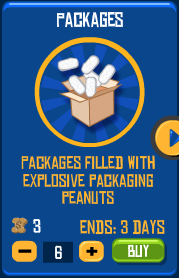 "Packages filled with explosive Packaging Peanuts"
Icon
Cost

3 Treats for 6 ammo

Damage

200 (Packages)

150+ (Package Child)

Ability
Throw 2 Packages
Found in Crates

Released

on:

August 17th, 2012
Expires in:
August 30th, 2012
Advantatges
Edit
Disadvantatges
Edit
Not recomened to airstrike that weapon.
Costs Treats.