The Penguin is the 14th pet to be released on Wild Ones. The Penguin's ability is Fishspit, which allows it to spit multiple fish which do 40 damage each. It was re-released on 29th June, 2011.
The Penguin's Stats



Health

77%

Speed

59%

Jump

64%

Ability

Ability Uses

4x per game

Cost

45 treats or 2999 coins

Fall DMG

15-31
Main article: Pets
Right key to move right, Left key to move left and Up key to jump. D key to move right, A key to move left and W key to jump. You can also use the mouse to point where to go.
The Penguin was released by accident for a day before getting recalled. Anyone who bought one during this time was allowed to keep them.
The Penguin resembles the Macaroni Penguin.
Great pet for disguising with Christmas Accessories!!! (Santa Hat, Santa Beard)
It was determined that it has the same situation with Hippo and Devil. If you buy 85 treats, you will get a Penguin, as it was re-released on 29th June 2011
When Wins It is jumping or making a Dance.
Along with Dragon, Platypus, Hedgehog and Chameleon, the Penguin does not smile when doing the Winning Jump.
Fishspit is one of the weakest Pets Ability.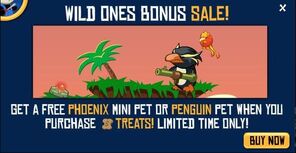 Pets

Mammals

Reptiles

Birds

Marsupials

Human-Type
Ad blocker interference detected!
Wikia is a free-to-use site that makes money from advertising. We have a modified experience for viewers using ad blockers

Wikia is not accessible if you've made further modifications. Remove the custom ad blocker rule(s) and the page will load as expected.