This page is checked.

This page is checked on 03:33, December 30, 2011 (UTC), please add more data to this page if there is something new to this page to prevent getting outdated. We are welcome for more information and more relevant photos. This page meets Wild Ones Wiki standard and is informative to visitors.
This weapon is harmful to your health.

Plutonium Jar is a chemical weapon. Please do not overuse it because it will be very destructive and will make the game unfair.
Expired Content

This page contains information about Expired Content, thus Plutonium Jar cannot be seen in the shop of Wild Ones.
Plutonium Jar is a weapon in Wild Ones. When used, you ought to throw it to the opponents and inflict damage. It had cost 0000000000000002,999.

2,999 Coins for 6 ammo.
"Throw a Plutonium Jar at your opponent"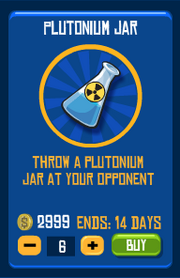 Icon
Cost

Damage

700 Damage

Nearby explosion damage: 00000000000000000500. 500 Damage

Ability

Throw a plutonium jar at opponents.

Found in Crates

Found in Mystery Box

Yes

Released in:
July 3rd, 2012
Expires on:
July 17th, 2012
Advantatges
Edit
Costs coins.
If the player missed an enemy, and hits it very close to it the weapon will still do damage from the explosion.
Disadvantatges
Edit
Cannot do an OTK unless the player has full stats.
When the enemy is killed by this weapon, it will leave a skeleton and burning flesh, just like Poison Cloud.
Like Poison Cloud, it has the same sound effect, the Wilhelm scream.
The real Plutonium is a solid form and is highly radioactive and it's not corrosive.