Wild Ones weapons Portal
A weapon is a tool for people to use violence against somebody or something in order to achieve peace or release anger. In Wild Ones, a weapon can be used to score points when the weapon inflicts damage. Weapons can be brought in shops or received through gifts and lotteries, like Wheel of Weapons, using either virtual money, a.k.a. coins, or paid money, a.k.a. treats.
Weapons can be used in different ways in different types. In the category of missile weapons, some missile weapons can be used by shooting them directly at the opponents, like Missile by falling from above, like Missile Stream, or by transforming into several smaller missiles, like MIRV.
Featured article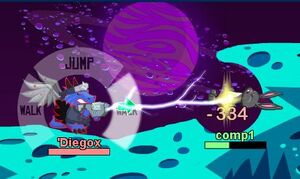 The Shock Rifle is an extremely rare weapon in Wild Ones which was available for a short period of time. It is still available to Members. It shocks players instantly with precision, and creates a very powerful lightning blast.
| | |
| --- | --- |
| Icon | |
| Cost | (but sometimes you can get it for winning tournaments) |
| Damage | 350 - 400 Damage |
| Ability | Creates a lightning blast |
| Found in crates | |
Recently featured: Shock Rifle
Main categories
Ad blocker interference detected!
Wikia is a free-to-use site that makes money from advertising. We have a modified experience for viewers using ad blockers

Wikia is not accessible if you've made further modifications. Remove the custom ad blocker rule(s) and the page will load as expected.