Expired Content

This page contains information about Expired Content, thus Pot of Gold cannot be seen in the shop of Wild Ones.
This page is checked.

This page is checked on 03:33, December 30, 2011 (UTC), please add more data to this page if there is something new to this page to prevent getting outdated. We are welcome for more information and more relevant photos. This page meets Wild Ones Wiki standard and is informative to visitors.
This weapon is harmful to your pet, please do suitable protection

Please wear accessories which can maximize your health or rise your stat points to prevent death. Laser can be hazardous and will kill your pet easily. Please don't play with laser at home, once laser is pointed to someone's eye, it can blind them.
Pot of Gold
is a weapon in Wild Ones. It is released on March 14, 2012. When you use
Pot of Gold
, you ought to shoot it at the opponents to inflict damage. Then, 7 coins will be thrown out of the pot and after several seconds, the coins will shoot out beams of light. Then, the coins will explode and inflict another round of damage.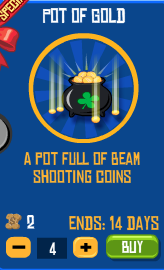 "A pot full of beam shooting coins"
Icon
Cost

2 Treats for 4 ammo (2012)
00000000000000000002. 2 Treats for 8 ammo (2013)
Now:

Missile Damage

200 Damage

Laser Damage

300 Damage each

Grenade Damage

200 Damage each

Ability

Smack the Pot into the pet and it will split into 7 coins, and it will shoot beams, and then explodes

Found in Crates
Released on
First Release: March 14, 2012
Second Release: March 16, 2013
Expires in
First Release: March 28, 2012
Second Release: April 15, 2013
Advantages
Edit
Disadvantages
Edit
If you are wearing full Uncle Sam Set, the beams will be flashing red and blue instead of yellow.
Similar to the Magnifying Glass.
This is a three-part type weapon where the 1st part is the missile damage while the 2nd part is the laser damage given by the coins and the 3rd part is the grenade damage. Since there's not much weapons being three-part type, it is still recognized as a two-part type or multiple-part type.
It is suggested to aim at the opponents powerlessly, so that the coins will not be thrown out far away.