This page is checked.

This page is checked on 03:33, December 30, 2011 (UTC), please add more data to this page if there is something new to this page to prevent getting outdated. We are welcome for more information and more relevant photos. This page meets Wild Ones Wiki standard and is informative to visitors.
The Queen Beehive is released in Wild Ones on May 27, 2010. It is a modified version of the standard beehive, containing almost 3 times the amount of bees than the original
Beehive
. When placed right next to an

enemy, the enemy will most likely be killed instantly due to the large swarm of bees resulting an
OTK
. Another feature is that a much larger queen bee appears. The queen bee can be killed with an
Impulse Bomb
. It is the most effective to use on a player before your turn. If used on a person who is after your turn, they could run away or jump over the bees before they have time to spread out. However, due to its fatality, it might instantly kill the person after your turn. It is useful in
Ice Bridges
 ;
Creepy Crawly
 ;
Lab Rats
 ;
Hot and Spicy
 ;
Kennel
 ;
Graveyard
 ;
Chow Time!
when there's a space which looks like a hole which is hard to escape. It is also useful in blank maps. (which you say the map is "insane".)

Icon
Level to unlock
Level 29
Unlock Cost

13 Treats (when you want immediate weapons)

Cost

00000000000000000003. 3 Treats for 3 ammo

Max Cost & Ammo

00000000000000000297. 297 Treats for 297 ammo

Damage

00000000000000025-50. 25-50 Damage each bee 25-50

00000000000000000100. 100 Damage Queen Bee

Ability

Massive hive makes mega spread of bees.

Found In Crates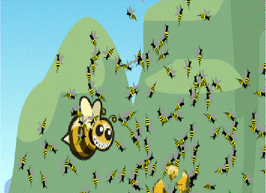 Advantages
Edit
Disadvantages
Edit