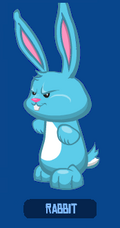 The Rabbit is the second pet released in Wild Ones. It has GREAT jump and even better... The Super Jump ability, with it you can jump more than half of the map!. It now costs 4,999, but before it was way cheaper. As from 22 February 2012, the rabbit become a chow pet. This, however, does not affect rabbits which were bought before 22 February 2012.
Main article: Pets
The Rabbit's Stats



Health

950 HP

Speed

1.4 cm per second

Jump

1.1 cm high

Ability

Ability Uses

Unlimited

Cost

4,999 Coins

Level To Buy

Level 5
Pets

Mammals

Reptiles

Birds

Marsupials

Human-Type
Ad blocker interference detected!
Wikia is a free-to-use site that makes money from advertising. We have a modified experience for viewers using ad blockers

Wikia is not accessible if you've made further modifications. Remove the custom ad blocker rule(s) and the page will load as expected.