Rhino is a Pet in Wild Ones. It was released on 30 Aug, 2011. It cost 55 Treats. It is the 20th Pet in the game.As from 26/1/12 the price of Rhino changed to 22 Treats making Super Skunk the most expensive treat pet in Wild Ones.
Rhino's Stats

Rhino's Stats

Strength

85%

Health

87%

Speed

50%

Jump

55%

Ability

Rampage

Ability Uses

x3

Costs

00000000000000000022. 22 Treats
Main article: Pets
Advantages
Edit
Disadvantages
Edit
The disadvantage of the Rhino is its low Speed and Jump.
Cost Treats.
Right key to move right, Left key to move left and Up key to jump. D key to move right, A key to move left and W key to jump.You can also use the mouse to point where to go.
Its special ability is to Rampage.
Pet Power Rampage causes 400 damage.
Pet with High Strength and Health.
Maximum upgradable health stats available for Rhino is +25 unlike +100 for other pets.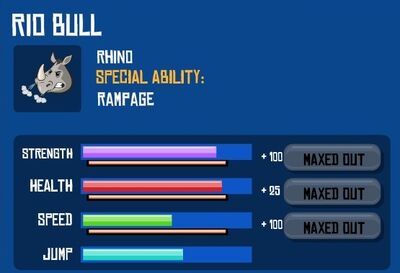 Pets

Mammals

Reptiles

Birds

Marsupials

Human-Type
Ad blocker interference detected!
Wikia is a free-to-use site that makes money from advertising. We have a modified experience for viewers using ad blockers

Wikia is not accessible if you've made further modifications. Remove the custom ad blocker rule(s) and the page will load as expected.