Rumble in The Jungle is a map released February 28, 2011. It is not a celebration map but a similar map to
Emerald Zone
and
Creepy Crawly
. Due to many "undergrounds", drills is strongly recommended. If you start on areas in the non-scale south, it will be best to use the
armadillo
.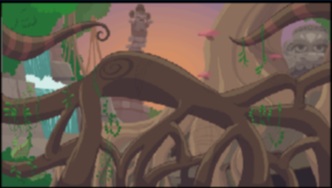 This is a very secure map. Traps are hard to be falled in. However, some parts of this map may fool you because they are somehow "camouflage". Those "camouflage" will trick you and affect your accuracy.
Unless you use Game Over Nuke or Mega Nuke, you will not be able to fall into the holes like Foolish Errors.
Hitting the logs or twigs will leave a hole, like deforestation.
It is not recommended to use Nukes and Airstrikes as there are many obstacles around the map. Some of the "passing through objects" weapons like the Airstrikes and Drills.
A very complicated map, most experts don't tend to go this map and play, yet beginners choose this map as a practice.