This page is checked.

This page is checked on 03:33, December 30, 2011 (UTC), please add more data to this page if there is something new to this page to prevent getting outdated. We are welcome for more information and more relevant photos. This page meets Wild Ones Wiki standard and is informative to visitors.
The Spider Bomb can crawl on the terrain and attaches onto it and hit opponents after it is thrown. Sometimes you can hit your teammate(s). If the bomb does not find a target, it will explode after your turn.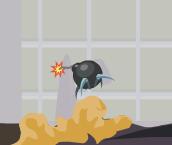 | | |
| --- | --- |
| Icon | |
| Cost | 16 Treats for 20 ammo |
| Max Cost & Ammo | 1,584 Treats for 1980 ammo |
| Damage | 400 Damage |
| Ability | Crawl over the map and find its prey |
| Found in crates | |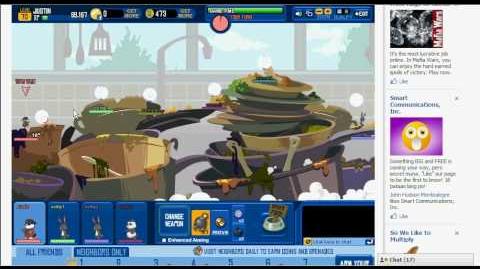 Advantages
Edit
Sometimes if you miss the target, it may run to the enemy you wanted to kill.
The bomb will not affect you except for the blast radius dealt.
If the pet is near the wall and not being bombarded, the bomb will go in opposite direction.
Disadvantages
Edit
Sometimes it will crawl back to you or bombard a teammate.
It is the downgraded version of Killer Hamster.
Many people would rather buy Spider Bomb Shower due to its cheaper price and more fatal damage.
Tiny blast radius, or maybe none at all.
The Spider Bomb has change its prices and amount of Spider Bombs you get for many months.
20 Spider Bombs for 33 Facebook Credits
20 Spider Bombs for 6 Facebook Credits
30 Spider Bombs for 9 Facebook Credits
100 Spider Bombs for 48 Facebook Credits
20 Spider Bombs for 20 Facebook Credits
20 Spider Bombs for 48 Facebook Credits
20 Spider Bombs for 16 Treats (Present)
There was a price glitch during the month of April, whereas the price of the Spider Bomb has changed for different users.
Its enhanced version is the Killer Hamster.
Although it can crawl, many people prefer to launch it directly to the enemy so they don't miss the shot, or to avoid the spider bomb to get stuck somewhere.
Spider Bomb Shower is cheaper and better than Spider Bomb.