Spit is the
Dragon's
ability. It allows the players to breath fire on its opponent that deals 30 damage rapidly.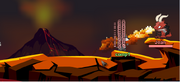 Damage

30 (rapidly)

600 (maximum)

Ability
Spit on opponent
Found in which pet only
Dragon
When using this ability when the screen zoom is at max, it looks like pixels.
Sometimes it appears in your weapons with the name of Fire Breath
It can lower more than half of the life points, so it is recommended to use this ability when the enemy has half life or less, so that can cause an OTK.
It can be used 3 times per match
Ad blocker interference detected!
Wikia is a free-to-use site that makes money from advertising. We have a modified experience for viewers using ad blockers

Wikia is not accessible if you've made further modifications. Remove the custom ad blocker rule(s) and the page will load as expected.