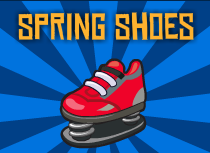 Spring Shoes is an accessory in Wild Ones.
Cost

Nothing (Need complete weekly challenge) 7 DAYS

5 neighbours needed participated

Bonus
+12% Jump Boost
Released
4/6/2012
Expiring
11/6/2012
Advantages
Edit
A free Jump Boost Accessory.
Disadvantages
Edit
None
Some players didn't get it even if they were first or had all neighbors on the list.
Ad blocker interference detected!
Wikia is a free-to-use site that makes money from advertising. We have a modified experience for viewers using ad blockers

Wikia is not accessible if you've made further modifications. Remove the custom ad blocker rule(s) and the page will load as expected.